Services
Painting (Interior & Exterior)
Ken has been working in the painting industry for over 20 years and can carry out all aspects of interior and exterior painting. There is no job too big or small at Ken Dodd.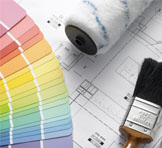 Decorating
Ken Dodd strives to meet your requirements when it comes to decorating your home. He can complete any decorating project and provide you with only the very best materials keeping within the character of your home.
Wallpapering
Wallpapering is a skill in its own, repairing damaged walls is a necessity to ensure the end result is impeccable. Ken Dodd can hang anything from plain wallpaper to lavish prints, so save yourself the hassle and leave it to the expert!
Paint Repairs
Completely repainting a whole wall isn't always necessary; sometimes you can simply just repair it. This is a tricky job but when done properly it is completely invisible to the naked eye.
Get a Quote
We aim to reply as soon as possible